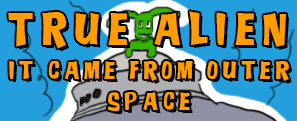 True Alien
A downloadable 3rd kind encounter
Roswell, 2017. Humanity is about to learn the secrets of interspacial disc-saucer flight from all the alien space ships that keep crashing into earth. While most aliens are content becoming politicians or actors after crashing into earth, one green fella is determined to stop human research into space and protect the galaxy from earth's darkest invention, Fortnite Youtubers. But unfortunate to him, he has two left hands when it comes to destroying things, so everything he tries to break works even better afterwards. Still, the game is to to help him break the saucers! Which is actually fix! And shouldn't it be Minecraft Youtubers again after the resurgence?
So yeah, my GGJ2020 entry is a NES game. Did you see that coming? I sure didn't. The theme "repair" hardlocked me into Fix-it-Felix, so I wanted to do a minimalistic arcade-y game, think the original Donkey Kong. However, doing one on the Dreamcast would have been a bit too, uhh, minimalistic, so I thought "Why not try going for an older console". It's been since Storm Storm (2017) that I did something in assembly, so it seemed like a nice time to do something again. Like Storm Storm, it's very simplistic (the fact that I couldn't get randomized ladder positions working still irks me), but considering I hadn't really done much on the NES before, I think it was okay for 48 hours. 16 bit memory adresses and 8 bit registers will haunt me in my dreams for the next few weeks though!

Controls for NES:
Start Game - Enter
Jump - A
Movement - Dpad
Climb Ladder - Up/Down
Advance screen - A
Additional notes:
Thanks for playing!
Install instructions
Extract TrueAlien.nes and play in an NES emulator of your choice.

I personally used FCEUX during development and it worked fine.